July was an oddly cruel month for Jesse Biddle. Although he was the winning pitcher for the USA in the Futures Game, the month seemed to take a lot out of him. He maintained his lead in strikeouts for the EAL, but Jesse's July ERA overall was 7.11 and he had a 1-3 record in five games pitched. You have to expect that all players hit a wall sometime during the season. The question is whether they figure out how to power through that wall.
Jesse did just that in August, beginning with a face-off against A-Rod in Trenton (walk, HR, K), and then four straight six inning outings where anyone watching could pretty easily say the kid was systematically busting down that frustrating July wall. In five August games, Jesse has allowed only nine runs in 29 innings for an ERA of 2.79. It's been an interesting month. He had a 7-walk game not allowing a run in Harrisburg on August 8th, and then a 0-walk, 8-hit game in Akron 10-days later. He continues to lead the league in strikeouts with 150 through 135.1 innings. Opponents for the year are batting just .212 against him.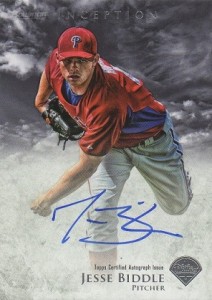 In Jesse's last start at Reading (Friday night, August 23), he gave up a run in the first inning on two infield singles, a walk, and a groundout, then allowed only one hit for the next five innings, striking out 6 and walking 2. The hit he allowed was a bloop fly ball to center field that popped out of the glove of a diving Zach Collier. The best part of Friday night is that the Reading team scored enough runs for him to leave the game after six innings up 2-1, with Seth Rosin and Kyle Simon coming in to give the team solid relief work in the last three innings — providing Jesse with his first win since July 18th.
We'll see how things go Wednesday night against the Richmond Flying Squirrels as Jesse pitches in his last home game of the season. Game time is 7:05 p.m. It's a National League team night, so #54 will be batting 9th in the lineup. We still feel there may be a home run in the cards for 2013. Wednesday night is his last chance to make that happen.
Jesse is scheduled to pitch in the last game of the season in New Britain on September 2. That's a day game. Then he rests. Some of us will be very happy to see that. It's been a long season.
See you out there…
Related articles