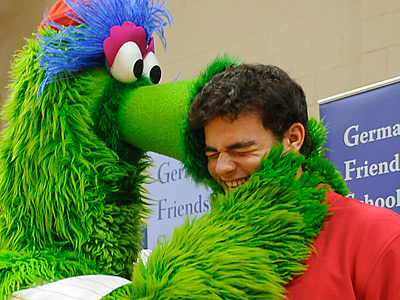 After the game last night against the Richmond Flying Squirrels (SF Giants), Jesse texted that he didn't have his good stuff. He battled through five innings anyway, only giving up one run (in the 1st) and striking out seven. It was a tough night. He threw 102 pitches, about half balls and half strikes (he's usually at a 2:1 ratio, at least) and only had one inning where he set down the side in order. But a starting pitcher's job is to keep his team in the game. Jesse, Kyle Simon, Jay Johnson, and Tyler Knigge did just that, arriving at the 9th inning down 1-0. Then Tyler Henson singled and advanced to 2nd on a wild pitch with two outs and Derrick Mitchell doubled off Daryl Maday, driving in Henson and tying the game.
Mike Nesseth came in for the bottom of the 9th and held off a scoring threat by the Squirrels, inducing a double play to end the inning. The Fightin Phils scored two more in the top of the 10th to go up 3-1 and Nesseth stayed in getting the final outs with a strikeout, and two grounders. It's been a while since the Fightins have won back-to-back games with late inning heroics. Good job to the boys who sometimes wear red pinstripe pajamas on the field.
They continue their short road trip to Richmond with games this weekend, and then have a day off on Monday and are back in action at FirstEnergy Park on Tuesday night against the Portland Sea Dogs (Red Sox). Jesse is scheduled to throw Thursday night in Reading. The weather for the week should be cooperative and we don't know of any big league type pitchers doing rehab work right now, so we'll see you out there. First pitch is at 7:05. Jesse's next two outings after that are in New England to close out the month, and then he will likely pitch in Trenton during the 4th of July weekend (it's looking like either the 5th or 6th right now, Friday or Saturday. More on that later).
The pitching schedule will become impossible to predict as we approach the middle of July. It's likely he'll be voted into the Eastern League All-Star Game (July 10 in CT), and there's a chance that he'll be playing in the Futures Game the week after that (a chance…). For the Eastern League, you can vote for him here. I'm not going to recommend who you should pick for position player, but you know who you should pick for pitcher. As of this writing, Jesse leads the league in strikeouts with 86. That should be enough to get him in, huh? So vote now and vote often (if you can…). Stay tuned about the Futures Game. That's a big deal. We know Jesse wants to get a shot at pitching against the best of the best of the best in the minors.
And, finally, a special note. It's been three years since Jesse graduated from high school. He and all of his classmates have come a long way since June of 2010. They're all turning 21 this year. In another year most of them will be graduating from college.  Hopefully, Jesse will be graduating from the minor leagues. Germantown Friends is such a special place. The kids who come out of there are special people. It was on the occasion of Jesse being drafted by the Phillies in the first round with the 27th pick overall, but Buzz Bissinger's front-page feature article about GFS three years ago as an "unlikely baseball factory" is well worth the read. You can find it here. Thank you, Buzz, for your rapacious wit and fearless send-up of the hidden world of GFS.
We'll see you out there, real soon I hope.