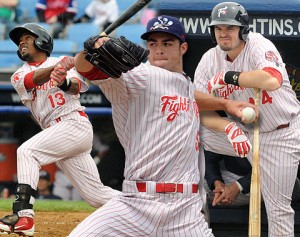 Okay, so Jesse is NOT pitching next on Sunday the 30th in New Britain. Because he only threw 32 pitches on Tuesday night before the game was called because of rain, the Fightins have bumped him up to Saturday night (6/29) in New Britain. In theory, that also adjusts his schedule for his next outing to July 4th in Trenton. More on that early next week.
The great news for Jesse this week, though, is that he was named to both the Eastern League All-Star Eastern Division Team (thanks to all who voted for him) and the USA team in the Futures Game. The Eastern League game will be on July 10th in New Britain, CT. The Futures Game will be at Citi Field in New York City on Sunday, July 14 at 2:00 p.m. That's USA vs. The World. We're going to guess you can watch that game on the MLB Network (though some of us will be at Citi Field, so if you could tape his inning and put it on YouTube, we'd love you forever).
Congratulations to Jim Murphy and Albert Cartwright who were named with Jesse to the EAL All-Star team, and Maikel Franco ("Franco!") who will represent the Phillies as well in the Futures Game (only on the World team). Franco has been a hitting machine ever since he got promoted from High-A Clearwater to AA-Reading. He's batting .483 in his last 7 games and .317 overall for the season.
It's been a weird year for the kid from Mt. Airy. He started the season out mowing everyone down. Then got smacked up side the head with a major case of Whooping Cough. He's pitched through that, but the results on the mound haven't always been what he wants. Still, he leads the EAL in strikeouts and keeps going out every 5 days to do his thing. Whooping Cough is called the 100-day disease, so he'll be recovered hopefully by the beginning of August. AA hitters need to be ready for that (just saying). Until then, keep your Internet radio tuned or get an MILB.TV subscription. When Jesse pitches it's always a wild ride.
See you out there.