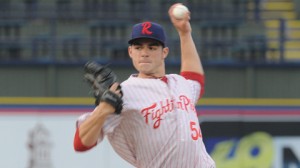 Jesse will pitch tomorrow night (Friday, May 31) in Reading. He goes up against the always tough Akron Aeros (Cleveland Indians). Game time is 7:05 PM.
He will pitch again in Altoona against The Curve (Pittsburgh Pirates) on Thursday, June 6 at 7:00 PM.
Stay tuned for more news on the Fightin Phils as they try to regain their early season form and the summer heats up.
Related articles