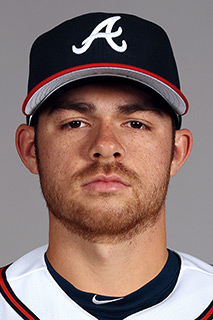 Rest for yet another member of baseball's Tommy John Brotherhood began on October 5, 2016. In early October Jesse was told not to touch a ball until he got the word from the Braves front office. He'd gone through a long season of rehab at the Braves' facility in Orlando (Tommy John surgery was in October of 2015).
It was a wild ride, to say the least in that part of the world last year: hurricanes, murderous alligators, the Pulse nightclub, and Christina Grimmie. Look it all up. When last year began, Jesse had no idea what was about to happen except that he needed to take care of his elbow and stay in shape.
But the 2016 season began with his trade by the Phillies to the Pirates. That was surprising and frustrating, to tell the truth, but Jesse and the Pirate staff got along great and team executives in the front office were high on what Jesse could do for them once he recovered from his surgery. Alas, the Pirates needed to cover 3rd base halfway through spring training because Jung Ho Kang was still recovering from a broken leg and David Freese was available. So the Pirates took a chance and DFA'd Jesse off their 40-man roster. Just as with the Phillies, that gamble didn't work. The Braves, who had been ready to draft him in 2010, signed Jesse in a heart beat knowing they would need to protect him on the major league 60-day disabled list.
As with every job out there, it's nice to be wanted. Jesse's very happy as a Brave and looking forward to 2017. The first pitching coach he ever had as a professional with the Phillies' GCL team, Chuck Hernandez, heads up the Braves' pitching braintrust.
Word to start throwing again finally came in late December — nearly three months off. On the day after Christmas, Jesse played catch with one of his brothers and then began throwing from 60 feet a few days later at Full Armor Baseball Academy in Northeast Philly. He kept up a three-day a week schedule until it was time to head down to the Braves facility in Orlando. He's been there for a week now with other rehabbing pitchers (and a few position players) gearing up early for spring training and the coming season.
Before driving down to Florida, Jesse was one of the Braves representatives at the annual Rookie Career Development Program jointly sponsored by Major League Baseball and the Major League Baseball Players' Association. The event was held in the Washington, DC area from January 5 – 8. Two days later he hit the road for an 18-hour drive, arriving around 2:00 AM at his winter home in Kissimmee. Six hours later he was at the facility ready to get rolling.
Reports from Orlando are that Jesse's arm feels great, he's playing catch every day, and will start throwing off the mound as soon as there are catchers on the premises.
We've seen a few online list serve posts wondering what's up with him. Suffice it to say the Braves have a good feeling about Jesse and he has good feelings about them and what is about to transpire here in 2017. He's certainly ready to compete. At the end of rehab last summer his fastball was once again electric and nasty, and while it took a bit of time for his arm to get used to throwing breaking balls again, his curve, slider, and change were all as sick as ever in the few real bullpens he threw at the end of rehab. Since resting that arm he's simply gotten stronger. Only time will tell — time and that brand new ligament he's sporting in his left elbow.
None of this has been easy for any of us who know Jess. But he's maintained his even keel and positive energy the whole time. It's been nearly four years since he has been healthy (see the video below for what happened the last time that was). A lot of maturing has gone on since 2013. He's learned more than most of us do in a lifetime about fans, reporters, doctors, trainers, and baseball as a business. We can't wait to see him out there putting that new knowledge and maturity to the test. Right now he's flying under the radar. That's just where he wants to be. But that doesn't mean his expectations of himself have changed. He knows he can handle the majors. He just has to stay healthy and wait his turn (and get some batting practice).
See you out there. Braves will rise again.
Chop on!