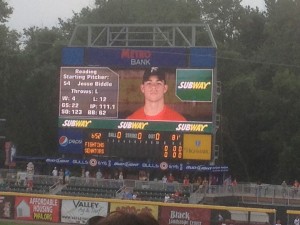 You never cease to run into weirdness in baseball games if you pay attention. Jesse's outing in Harrisburg last Thursday was certainly a night of weirdness. I talked to a scout during the game who had an accurate radar gun on Jess. Most stadium guns get bad readings on lefties who pitch from the far left side of the rubber. The gun for Metro Bank Stadium showed fastball speeds of 91 mph. The scout said Jesse was consistently 93-94 mph…which explains a lot of the swings and misses we witnessed all night long.
The thing is, it was one of those nights he struggled with command. He walked seven (!) and his curve just wouldn't bite. It just kind of floated like a spastic puff ball about shoulder high most of the evening. The result of his command trouble was that from the first through the fifth innings, Jesse had to pitch with runners in scoring position — often with no outs. He had the bases loaded and no outs in the first (walk, single, walk). He says he finally felt like everything was under control in the 6th — his only 1-2-3 inning of the night (with two strikeouts). And then he was done for the night.
The funny thing is that he only allowed 3 hits in the entire six innings of work and no runs. When he came out of the game, he was up 1-0. It was a night of nothing but tension and intensity for him (a lot self-generated), but he worked hard to master each batter. And, quite interestingly, because his curve wasn't working, he had to rely a lot more on his change up. I don't know how many he threw, but the hitters looked silly whiffing on that pitch time and time again. If anything, he didn't throw it enough.
The Fightin Phils would eventually lose 4-1. Jesse got to hit in the game (Harrisburg is an affiliate of the Washington Nationals a National League team). Jesse raised his batting average for the season to .429 with a single on a 2-2 count in the third. And he executed a flawless bunt in the fifth. The dude can swing it!
He pitches again tomorrow night in Reading (Tuesday, August 13, 7:00 pm). The Fightins changed his schedule a bit from what we last reported. Sorry.
It's true this team sometimes has trouble scoring runs for its pitchers, but sometimes they're amazing and hit the crap out of the ball. Last night they won 14-5 with everyone in the lineup getting hits. Go figure.
So come on out and cheer on the Eastern League's most hard luck team. They've got great players who still have something to prove. They're doing a home stand against the Binghamton Mets this week — the best team in the EAL. Jesse and his boys have their hands full. They need your support.
See you out there…
Related articles