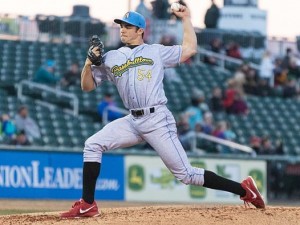 Sometimes years of training click for a couple of hours. You don't just hope to get to the zone, you walk onto the mound at the beginning of the game, strike out the first batter, and realize you're already there.
The evening of April 22, 2013 was special for Jesse and the few people who braved the cold Harrisburg night to watch the Fightin Phils take on the Harrisburg Senators (the Washington Nationals' AA affiliate). Pitchers who have good games often say that their bullpen warm-up sessions are far less than spectacular. Jesse threw four straight balls to end his warm-up session that night.
It took 73 pitches to get through the first six innings. That's about 12 pitches an inning. What's weird about that is that he struck out the side in half of those innings — the 1st, 4th, and 6th innings. Strikeout pitchers are notorious for running up their pitch count. Jesse attacked the zone all night and no one could hit him. It was amazing to watch. Amazing, too, were his two doubles in only his second game to hit as a pro player. In the third inning, he sent an inside fastball down the right field line into the corner. His second was a monster shot that split the gap between the right and center fielders. With better wood it might have been out of the park. He scored his first professional run after that one. It would end up being the difference in the game, putting the Fightins up 3-0 in the the 5th (they would win 3-2). When you're in the zone, it can help with everything you do between the lines (although he did also manage to strike out as a professional for his first time too in the sixth).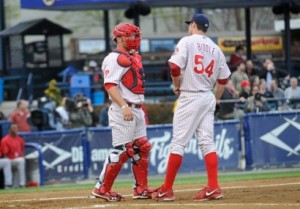 He didn't have to deal with a three-ball count until the 7th inning. After striking out the first batter of that inning — 19 straight outs (14 Ks) — Sean Nicol of the Senators got up 3-1 on him. In an interview after the game Jesse says it occurred to him that it was the first time he'd gone to three balls with any hitter all night. That little bit of internal dialog may have been his undoing. He walked Nicol on the next pitch and his bid for a perfect game was over. But the no-hitter was still intact.
Destin Hood was up next, though. Destin has been a thorn in Jesse's side several times this season. Many in the Nationals organization feel he has a shot at becoming a quality hitter in the major leagues someday. It's likely the Senators' coaching staff had made it clear to their players who were getting smoked that the pitcher they were facing was basically challenging them to hit him on every pitch. Everything was in the strike zone.
Hood came up and Jesse quickly got a two-strike count on him with a foul and then a called K. We were watching this game at home on TV (MiLB.TV, like it's big brother MLB.TV, is an awesome innovation for baseball junkies). Everyone in the room (Jesse's whole family) was on the edge of their seats. But with an 0-2 count, Hood slapped a groundball single through the hole between short and third. The no-hitter was dead, too. And there were two on and only one out in a close game.
Jesse wasn't done, though. He struck Justin Bloxom out on four pitches. But then he walked the dangerous Sandy Leon in a battle after going up 1-2 on him. It took seven pitches. All of a sudden his pitch count was up to 99 and Randolph Oduber was at the plate with the bases loaded and two outs.
No pitcher wants to come out of a game when he's got a mess to clean up. It's likely manager Dusty Wathan was prepared for that when he went out to the mound to take Jesse out. The kid had had a great night but he'd reached a reasonable limit for any minor league pitcher.
When you're in the zone (and he was still right where he started) you're not just a great performer…maybe you're a seasoned debater, too. Whatever the case, he convinced Dusty he could get Oduber out. He'd already struck him out twice that night. Ever since Oduber hit a homerun off of him in Low-A ball and ruined an outing for him in Hagerstown, Jesse had worked extra hard to get that guy out.
If I could have talked to anyone after Dusty went back to the dugout it would have been Cameron Rupp, Jesse's catcher. "You think he can do it? Has he got anything left?" I think I know what Cameron would have said. It would have been colorful, but it also would have been quite confident. It only took a couple of minutes. Oduber put up a bit of a fight, but he struck out looking on the fifth pitch of his at-bat. Jesse was done for the night. His relievers would give up a couple of runs, but in the end the Fightins were on the win side of the equation — 3-2.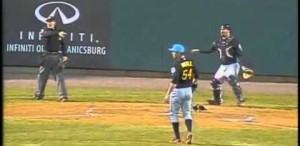 It was one of those nights, for sure, but it was also a moment where everyone who watched that game saw a 21-year-old wannabe step up and show that he has what it takes to be a quality starting pitcher in the major leagues some day. Most of us would be happy with an outing like that for the rest of our lives. The thing is, for Jesse, that game is in the past. His intention is to pitch hundreds more (some good, some bad) and to have a long career in the game of baseball. He went out five days later and had another 1-hit outing over six innings (this time with only 10 strikeouts). In some ways, after all the hoopla surrounding his April 22 game, that may have been more of an accomplishment than 16 Ks and a near perfect game.
Whatever, we can only hope that he keeps learning to be the best he can be. He's still got work to do on his slider and his change-up this year, and keeping the walks down and being efficient with his pitches is no easy job for any young strikeout pitcher on the make. It's still just the beginning for Jesse.
It's the beginning for all these minor leaguers. If you get a chance, go out and watch them. You don't have to drop everything and head out to just to see Jesse. On any given night, someone's bound to be in the zone, and if you're there, you may well be watching a World Series hero in the making or a Hall of Famer at the beginning of his career. Just go out and watch. The food is usually good (not healthy, but good). The beer can be awesome. And it's a chance to remember what makes life in this country so special.
Related articles