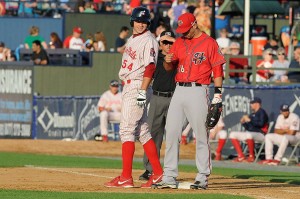 Hold onto your horses if you're planning on a Thursday night (6/13) at Reading to watch Jesse pitch. The Phillies are scheduling John Lannan for Wednesday night as he tries to rehab and move back up to the bigs. There is talk about Carlos Zambrano getting another start on Thursday now, which would push Jesse back to Friday, a game that will be played in Richmond against the Flying Squirrels (I want a Flying Squirrels T-shirt!).
Obviously, if that happens then his whole schedule will shift again. That's the main reason he let us put this website together. If you're reading this, you're one of the smart people trying to follow this kid. Stay tuned. I'd say there's a good chance his pitching schedule is going to be all messed up and unpredictable for another couple of weeks at least.
In other news, Jesse's catcher for the past 4 seasons, Cameron Rupp, just got the call up to the AAA IronPigs to fill in for Steven LeRud who was moved up as the backup with the Big Club. Read about that here. A nice new wrinkle for Jesse. Catchers are important! Watch the interview Jesse did with Jay Floyd a few weeks ago to hear his thoughts on Rupp.
Also, congratulations to Jesse's old Senators teammates Tyler Young and Jimmy Yezzo. Ty was drafted in the 7th round by the Tampa Rays and Jimmy was drafted in the same round by the Washington Nationals. Tyler's Louisville Cardinals team just clinched a berth in the College World Series, so he won't be reporting to the Gulf Coast League until late July most likely. If Jimmy's a quick sign, he'll be down getting roasted in the Florida sun real soon.
Related articles