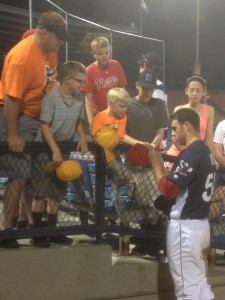 Tough outing for Jesse on Saturday night in New Britain. He had decent command but a bit of bad luck after several scoreless innings. He gave up nine hits in the game and walked two, but finished his portion of the game only allowing two runs. A bases loaded fifth inning stand with only one out was high drama.
Jesse had been throwing a lot of balls and not enough strikes. He'd given up two walks and a single and a double. The Rock Cats had already squeezed a run out in the 4th. With one more run already scored (thanks to the first walk), they had the bases juiced and just one out. And it looked pretty grim. Nate Hanson got three straight balls. Jesse had just walked the last batter. One more ball and Jesse walks in a run. No telling how he was feeling right then. Minor league baseball's all about learning to deal with the holes you dig for yourself. 3-0 counts suck in general if you're the guy on the mound, but when you're having trouble throwing strikes and the bases are loaded, well…
Five pitches later Jesse was out of the inning and no one crossed the plate — a pop up and a fly ball. Well shucks. New meaning to the old saying: balls to the walls.
He went out and handled the 6th inning much better. His line on the night was 6 innings, 9 hits, 2 runs, 2 earned runs, 2 walks, 2 strikeouts, 0 home runs. He threw 104 pitches, 59 for strikes. The Fightins would go on to lose 5-0. Jesse gets the loss, of course, moving his record to 3-8.
It's kind of funny. He pitched well-enough to get the win. No doubt there was a big challenge for him in the 5th inning, but that's the kind of thing every pitcher has to deal with. The truth is he did his job. And yet, somehow, at least some of the bloggers and papers reported the next day that he had a "rocky outing" and "continued to struggle."
It's all good in the end. Lots to learn. Dealing with strange expectations is probably not so easy…but how can any of us know what that feels like? We're pretty sure Jesse wants that 5th inning back to do over. He'll probably get another version of it soon enough…
July is going to be quite a whirlwind for learning more. Next outing is in Trenton on July 4th. Go to the Pitching Schedule page for more on the first half of the month.
See you out there.