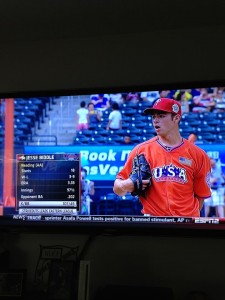 There is something about all-star games. They're meaningless. The level of competition is rarely about grit and intensity. You're there to watch great players be great. It doesn't matter what level we're talking about, from Little League to High School or all the professional levels.
If you watched the Futures Game on Sunday afternoon you got a taste of what we're talking about here. It was the top 25 USA minor leaguers vs. the top 25 World minor leaguers (mostly Latin players). Jesse Biddle got credit for the win. He was supposed to pitch the 5th inning, but Anthony Ranaudo got into a little trouble in the 4th, so Mookie Wilson brought Jesse in to close the inning out. #54, always with the flare for something interesting, struck out his Reading teammate, phenom Maikel Franco, on three straight pitches. Watch that here.
You'll find articles on the game in this website's Articles Archive and some more clips in the Video Links section. It was particularly amazing to watch Jesse Biddle come running in from the bullpen and to be out on the mound in front of the crowd of about 25,000 with the game on the line. He also came out in the 5th and got a fly ball on two pitches then walked a batter (who he says he has walked four separate times), but induced a ground ball that turned a double-play to end the inning. We think he got through that inning on nine pitches. Not bad.
So, after a week of all-star hoopla, first in New Britain at the Eastern League shindig and then in Flushing, New York at the home of the Mets, it's back to work for the Fightins, and time to grind through about 9 more starts before the season ends. Jesse's still fighting remnants of the pertussis that's been dogging him all season, but says he's good to go. His next outing is in Portland, Maine this Thursday (July 18). He pitches in Binghamton five days later (July 23) and then, finally, at home on Sunday, July 28 at 6:05 against the New Britain Rock Cats.
Watch for posts of photos from the Futures Game early next week. You'll find them in the Photo Gallery section.
Lastly, though, we want to point you towards an article that the New York Times just ran today on Dusty Wathan, manager of the Reading Fightin Phils. It's a must-read if you have an interest in the craziness of the dream to become a major league player. Check it out in the Articles Archive. It's a great read.